Jacob Denner (1681-1735) A 392/415

stained boxwood, imitation ivory rings, register foot, silver key, A 392 / 415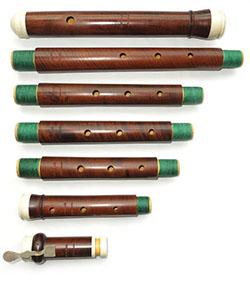 stained boxwood, imitation ivory rings, register foot, silver key,
A 415 / 392 / 405 / love center A 415 in B (complete flute)
One of the few major flutes which has reached us in very good conditon and complete (also case).
We like to make the complete copy with the 4 centers (A 392, A 405, A 415 and love center in B A 415). The register foot is added to tune exactly the D.
The low A 392 center is probably the chamber pitch, the A 415 the church pitch.
They surprisingly speak equally even good, for instance A 392 for Bach in the Partita and A 415 for Bach Sonatas with harpsichord.
Jacob Denner is the reference for the recorder makers and according to us, for the traverso too.